The event of Blossom Short film festival might have wrapped up but the online event is just about to begin. The shortlisted films will be now find their way in the online festival where the audience can enjoy the feast of beautiful films they missed to watch during the event. We caught up with the head of the jury Rashi Mal an artist by passion and currently very popular with young audiences with her portrayal of 'Gauri' in Channel V's Paanch. We asked her about the overall experience of being a Judge and aspects of short films.
How was your experience as a Judge for the first Blossom Short film festival?
It was really nice to be part of such an initiative. Varun and his team did a brilliant job. Its great to see people taking the effort to promote something they care about and to give so many other people a platform to express themselves.
We heard that most of the films were based on social issues, was the content of some of them a bit disturbing to handle?
Yes there were a lot of issue based shorts and I was actually very happy to see that. None of it was too disturbing to handle. These are all relevant issues and if people like us shy away from discussing such topics then we will never find solutions.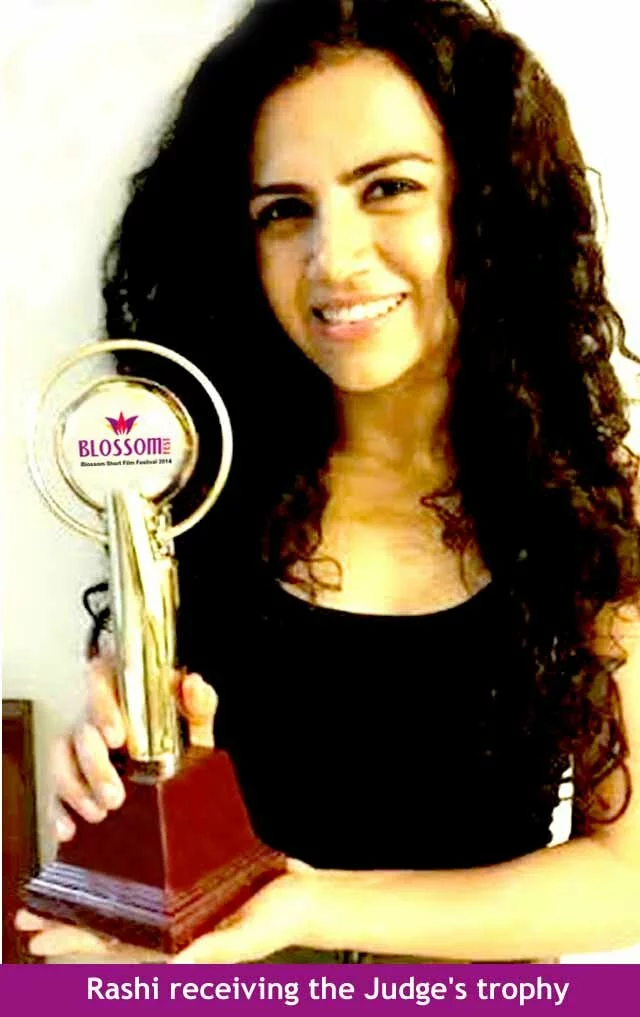 'Irony' by Mayank Singh won the first prize. What made it click and connect with you the most?
The films were judged on various parameters. The content, the execution of the idea and the presentation. I think all of that was in place in Irony.It was a well put together film.
We heard you are an admin of a creative page called 'Art Exchange' on Facebook, what are your intentions behind such an Initiative? Share few words.
The main intent of Art Exchange is to organize inter artists jams, wherein people from different disciplines of art come together and just play off each other. Its not for any monetary gains but just to provide artists with such a platform. I think each arm of the performing arts can lend to the others. Ideally I would like for this to become a regular thing. Unfortunately due to my erratic schedule we havn't been able to pin down a date yet. In the meantime we want the page to serve as a place for people to discuss the arts and promote their work. Interesting articles and information about different gigs,workshops, teachers, anything which is relevant to the arts really is welcome on the page.
You have been a part of Short films yourself, and we heard one of them is Award winning. Can you briefly describe the experience.
I went to New York Film Academy to study film making and short films was our focus. When I came back I entered a contest organized by HP. It was basically to increase awareness about technology and we had the option to choose from various topics. Being a girl, and an IT engineer I am aware of the fact that a lot of girls are not too tech savvy, although fortunately that has changed a lot now. So the idea of my short was to draw parallels between computer shopping and shopping for clothes/bags.  It was my first independent attempt, so it was quite encouraging to win. I made several shorts after that too. I even acted in one that won the best film award at the 48 hour film festival. Its always fun working on short films, in whatever capacity.
Two words on the Importance of Short Films. 
In times when people's attention spans are progressively decreasing, the importance of shorts can only increase. They provide people a great medium to express themselves as they take less investment on all fronts -money and time, so the risk is much less as opposed to full fledged films.  The short film culture is at a very nascent stage in our country, but its only going to get bigger in times to come.
We Wish Rashi lots of good luck for her show and future endeavours. The Blossom Online Short Film Festival shall begin on 28th April 2014